Content writing is the fundamental requirement of any digital marketing initiative. It is the strongest pillar on which the brand reputation of a business depends. Whether a big corporate house, a small or medium enterprise all depends on content writers.
With everyone going digital, getting clients in freelance content writing is easier than ever.
Every company carries on paid promotional tactics to get their business visibility. But it has been proven fact that consumers trust organic content more than paid promotional strategies.
In a country like India, 61% of households have access to the internet. This translates to only 1 thing!
That is an enormous opportunity in freelancing.
How to start as Freelance Content Writer with no experience?
Take a content writing course on Udemy or Coursera.
Choose which kind of content writing you're comfortable in. Eg – Copywriting, website content, script writing, etc.
Pick a niche.
Start your own website.
Publish your writing on your personal blog.
Start a social media page on Instagram, Facebook and LinkedIn.
Market your writings on social media.
Find opportunities for Guest Posting.
Reach out to your potential prospects.
Write -> Market -> Cold Outreach. Become better.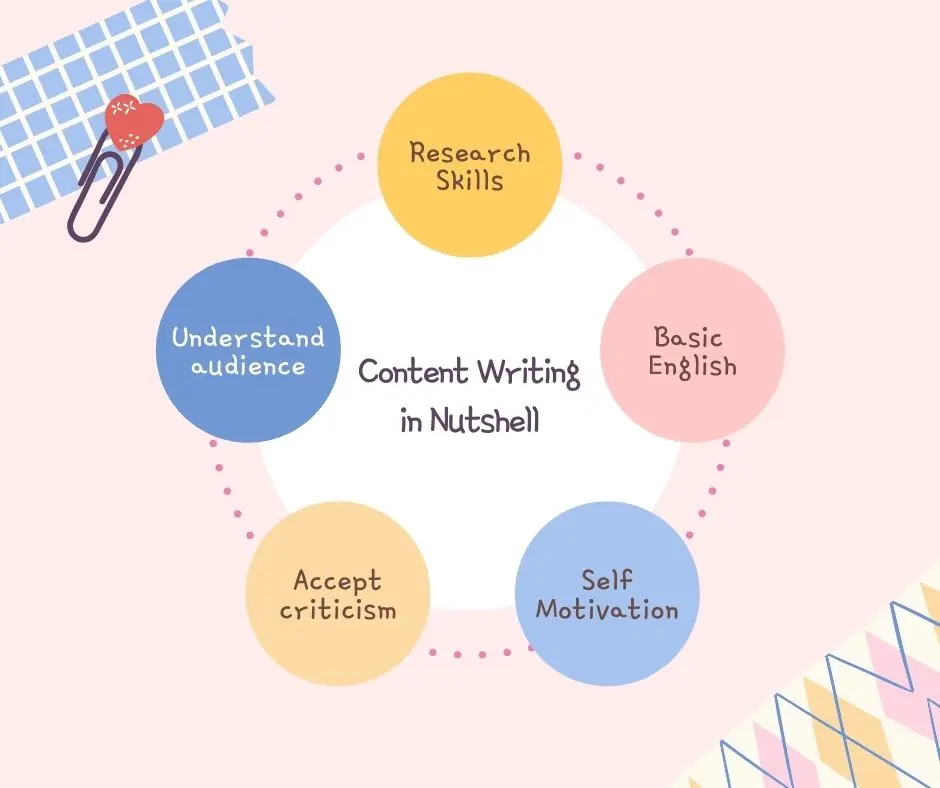 As a rule of thumb, you have no right of complaining if you have not sent at least 200 cold emails.
Please understand that it takes time to get your first gig. Many people complain that they are not able to get clients.
If you are a complainer, freelancing is not for you..!
What do you need to be a Freelance Content Writer?
To become a freelance content writer, there are no pre-requisites and initial investment. All you need is basic English skills.
Content has the intrinsic ability to influence and inspire conversion rates. This has put the content writing industry as one of the most powerful industries with tremendous potential for growth and prosperity.
I was able to start as a content writer with no prior experience, and I was able to land my first profitable gig in just a couple of months.
Here are some tools you need to start in freelance content writing.
Laptop – you cannot imagine start your career in writing without a laptop. There is no need to buy an expensive one.
Internet – its a no-brainer, in a digital world Internet is bare essential commodity. Invest in a good, stable internet connection.
Bank account – if you are going to start taking gigs, its important to have a bank account to accept your payments. It will be wise to get a Paypal or Wise account.
Email account – It will be useful in hunting your potential clients.
Zoom – Some clients would want to talk to you, and zoom is one of the most used medium for video calls.
Becoming a freelancer is all about having the right mindset and attitude towards finding writing gigs.
Being self-employed is a difficult job. You have to be on your own, putting in constant effort.
Here are some personality traits you need to succeed as an independent writer.
Motivation – Self employment is not easy. The path is tough. You will be responsible for managing a lot of things on you own. It is important to be self motivated, else things can go haywire real quick.
Desire – As a freelancer, I know how much desire can fuel you. Choosing freelancing means you desire to work from anywhere. It comes with its own set of challenges.
Patience – There are no shortcuts. You may get frustrated for getting clients, or the client may be hard to work with. You have to trust the process, keep your head down and keep on marching.
Do you need a degree to be a freelance content writer?
Content writing is one skill that can be learnt easily. You don't require any specialization or educational degree to start as a freelancer.
Anyone can start their career as a Content Writer. Although there is a certain requirement to succeed as one.
When it comes to content writing, a basic understanding of the following will help a lot
Marketing the content .
SEO.
Social media networks.
You have to understand that content writing is an umbrella term.
There are many branches in it.
You can become a copywriter, ads writer, scriptwriter, transcriber. So it is more of a personal choice which path to explore.
Quite often content writing is confused with creative writing. The former is more about utility than about creativity.
To summarize you should have a mindset of creating an impact with your writing skills. That's all you need.
What can you offer as a Freelance content writer?
You should start as a generalist. This will make you understand the industry standards.
After 3-6 months of work, you can dive into your niche. A niche freelancer will earn more than a generalist.
There are many services you can offer as a freelance content writer
Articles
Blog posts
Newsletters
Youtube content
E-book
Podcast content
Social media content
Reports
You can provide the above services in the niche of your choice. Although starting off in some well-paying niche can help you gain a good amount of confidence.
Here are some of the well-paying niches
Technology
Finance
Health and Fitness
Entertainment
Dating and Relationship
This is not an exhaustive list of the niches. You can always start in the niche of your liking.
It is important to understand that you will write well only when you enjoy the niche.
How to Sell your freelance content writing service (when you have no experience) ?
Join communities on Facebook, Reddit – Communities are the best place to display your skills.
There are lot of discussions going on in these groups. People from diverse background and niches post on forums. Helping people with queries will build your E-A-T (Expertise – Authoritativeness – Trust)factor.
People see you as an expert and eventual approach you for their work.

Create a pitch/portofolio – It is important to create a pitch for your services. List down all the skills you have and your USP(Unique Selling Point). People tend to choose experienced folks over new ones, so communicate your USP and explain how it will benefit prospect's business.
Once that is clear, people will definitely choose you over others.
Selling should natural, no one likes a pushy salesman.
For selling yourself efficiently you should effectively distinguish between clients current state and desired state.

Network with other freelancers – Connect with other players in the industry will surely help you in your journey. A single person cannot do everything on his own. If you have the right contacts, chances are other freelancers will refer you.

Attend offline marketing events – Events are the best way to form networks. There are a lot of who's who im such events. It is a better way to learn the industry trends. You can even get yourself some warm leads by talking to other people.

Exchange value on social media – In this day and age social media has become indivisbile part of our life. You can find all kinds of people, business on these platforms. Create a page or a your own and start sharing valuable content. This content can be a challenge, a case study or something you have learnt. Your goal is to make sure that your provide value to your viewers.

Suggest a better version of existing content – There are lot of online businesses. You as a fresher can take a look at their websites, comeup with your version and approach the client.
Using this way, your prospect can actually see the better version and gets to know your skill level.

Participate in challenges – There are lot of challenges that go on. One such famous challenge is Alex Cattoni's 5 day copy writing challenge which takes place on instagram. Participating in such activity helps you put across your work. This work can be compiled in your portfolio and shared with your potential clients.
How to work with clients as a beginner content writer?
Here is what the client acquisition funnel looks like for any freelancer.
Make the world aware of your services and skills. You can create Facebook, Instagram, LinkedIn pages. Post content relevant to your niche and skills on the platform. Put up stories that tell about your service, with a clear Call to Action.
Now once people are aware of your services, you can put up a free consultation or discovery call service. Those who want to connect with you, get them signed up on your list. These aware people are now your warm leads.
Offer your services, sell you naturally. No one likes pushy people. To get prospects converted into clients you have to convince them what value you bring to the table.
Research their niche and competitors well.
Once you have completed all the above steps, you will have a paying client for yourself.
Repeat the cycle with multiple prospects and get started as a content writer.
Please keep in mind that every stage of the funnel will attract only 4-5 % of prospects.
Always remember your goal as a freelancer is to take your client from his current state to his desired state.
You can charge an onboarding fee. While onboarding a client you will run multiple audits against the existing framework client has. Such audits help in understanding the current state of the client.
You will be working with a lot of clients. Chances are some may love your work, some may not be impressed. So you need to be open to constructive criticism.
Having a framework in place increases productivity. So as you start working with clients it will be better to have a set of processes that helps in your research work.
Your style of writing will improve gradually as you start heeding to the feedback.
As a content writer, you will be hired by diverse people.
As far as I know, it is better to write for authors and bloggers instead of a marketing agency.
You cannot predict when an agency might shut down.
On the flip side, authors and bloggers always have multiple assignments. They can provide a steady cash flow for you.
How much should you charge as a Freelance content writer?
As a newbie, your rates depend on various factors
Your experience
Client's budget
Client's industry
Your expertise
As far as I have seen you can charge on average a 0.60 paise per word.
If you are a niche writer, you can absolutely start charging ₹1 per word.
I have seen many writers doing monthly contracts of ₹ 10,000 – ₹ 15,000 for 5 blogs.
You can refer to the pricing table, that I have mentioned below as a starting point. Please keep in mind that the rates here are approximate.
My intention is to make you aware of the industry rates so that you are not paid less or exploited.
| Category | Rate | Unit |
| --- | --- | --- |
| Non-niche content. | ₹ 0.50 | Word |
| Niche content. | ₹ 0.70 | Word |
| Research-based content. | ₹ 1.20 | Word |
| SEO content. | ₹ 1.00 | Word |
| Copywriting. | ₹ 1.50 | Word |
| Website content. | ₹ 1.00 | Word |
Businesses pay well when you write content that generates traffic, retains the reader longer and generates more revenue.
So the better you understand your target, the better you can write.
Which websites to use to find freelance content writing jobs in India?
Recommended Read – Must use content writing tools
Now there are a lot of platforms where freelancing gigs are listed. You may already know some of the famous platforms like
You may also know how much fierce competition you may find on these websites. To survive, as a newbie in freelance content writing, you may have to undersell your services.
This is something which I will not recommend.
So what to do?
The best and easiest thing to do is to get yourself on various groups and forums.
Join content writing, freelancing subreddits. Get into Facebook groups.
A lot of discussions take place on those websites. All you need to be is aware and active. Whenever someone posts regarding the gig, message the person and ask relevant questions.
Send them a proposal, use the steps mentioned above to bring them into your funnel.
Can you make a living off freelance writing?
Do you know how big the content market is?
The total content market size is going to go up to USD 269.24 billion in the years 2020-2024.
Yes…
You read that absolutely right.
Now coming back to the question…
Yes, it is very much possible to make a living off as an independent writer.
You can make around ₹50,000 per month as a content writer. I'm not saying that you will be able to make this much right in your first month.
But…
By putting in consistent effort, you can easily make that kind of money.
In-country like India, you can easily make a living with that kind of amount.
But…
If you start getting international clients, you can easily make up to ₹1 lac per month.
So the bottom line is…
As a beginner, you may find it hard to make money initially. But eventually, when you learn the art of the skill, you will be able to make enough for your living.
How is Freelance Writing as A Career? Scope and Future Prospect of Freelance Writing?
Content writing is a huge term in itself. Writing is one of the most essential and evergreen skills to have.
Writing strategically requires practice. The more you practice, the better you will become as a content writer.
The beauty of this skill is that you don't require any fancy degree as discussed above.
Freelancing in content writing is very lucrative. There are a lot of businesses wanting to hire content writers. You can check on LinkedIn how many content writing jobs are up for grabs.
There are tons of opportunities, not just in India but around the world. In fact, a trillion-dollar opportunity. The pandemic has accelerated digital adoption.
Companies are ready to shell out money for content production.
Do you what this means?
Opportunity and tons of money…
Here are some statistics to back up my claims…
According to Technavio, the global content marketing industry is projected to have an annual growth rate of 16%
The content industry is expected to create a valuation of 412.88 billion dollars.
With that being said, it is essential to understand that 'content' is evolving.
People are now engaging more with video and visual content. As a result there the demand for scriptwriters, video transcribers has increased considerably.
This is natural in any field.
Another aspect is the rise of AI content writing applications like Jarvis. Such applications have made content writing convenient.
There is no need to feel threatened by AI tools because they are made to aid you as a content writer. Instead of wasting your time in writing repetitive content, you can now focus more on content strategy.
There are 2 sides to a coin.
Key takeaway
We are heading towards a world where freelancing is becoming more prevalent because companies are finding it increasingly efficient to work with freelancers.
Becoming a content writer takes time, just like anything else in life. The learning curve will take you several months to complete.
Become better at reading by reading more.
Understanding it becomes easier as you learn more.
You will become more fluid as you write more.
The best time to start writing was yesterday, the second-best time to start it today.