Install WordPress on Hostinger easily using this guide. WordPress is undoubtedly the most popular website content management system on the planet.
It powers more than 34% of the whole internet. Not only big, flashy websites, it also powers blogs and small businesses
WordPress is known for its simplicity, functionality, and user-friendliness. Whatever kind of user you are, be it an advanced geek or a newbie can easily use WordPress
Getting your website is one of the best feelings in the world.
This blog will serve as a guide for getting your own website.
There are many hosting providers, namely Hostinger, Bluehost, GoDaddy, etc. In this blog I have opted for Hostinger, you are free to choose any hosting provider.
So let's get started
Getting started with Hostinger
At first, you will need to visit Hostinger.
Once you are on the website, you can see the offers which are going on. They always offer a lot of offers.
Scrolling down you can see the various plans across different categories. You can choose the plan which suits you and your budget.
Hostinger's plans are very affordable. Just how affordable? What does the company offer? The below table may give you a clue.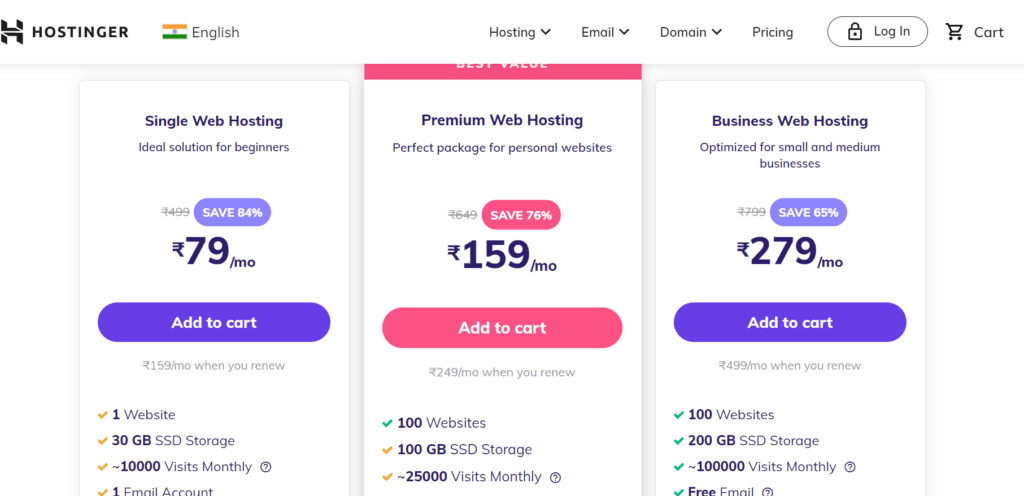 Here is a short comparison of the three plans.
Metrics
Single Web Hosting
Premium Web Hosting
Business Web Hosting
Websites
1
100
100
Storage
30 GB
100 GB
200 GB
SSL
Free
Free
Free
Domain
NA
Free
Free
Bandwidth
100 GB
Unlimited
Unlimited
Databases
2
Unlimited
Unlimited
Managed
WordPress
Yes
Yes
Yes
CDN
NA
NA
Free
Cloudflare
Yes
Yes
Yes
FTP
1
Unlimited
Unlimited
Cronjobs
2
Unlimited
Unlimited
Subdomains
2
100
100
Backups
Weekly
Weekly
Daily
Once you choose a plan, you will be redirected to the checkout page. A word of advice from my side, if you are a beginner it is better to opt basic plan and upgrade it as you level up.
Choose the duration of your plan, one thing to keep in mind is – longer the duration, you will get more discount.
However, you can always choose a plan which suits your purpose.
Lets install WordPress on Hostinger
After choosing the duration of your plan, get your account created with Hostinger and complete the payment.
Post the payment, you will get emails from Hostinger with your payment and account details.
After purchasing your hosting, you are a few steps away from installing WordPress and setting up your website.
Login to the Hostinger C-panel, and click on manage.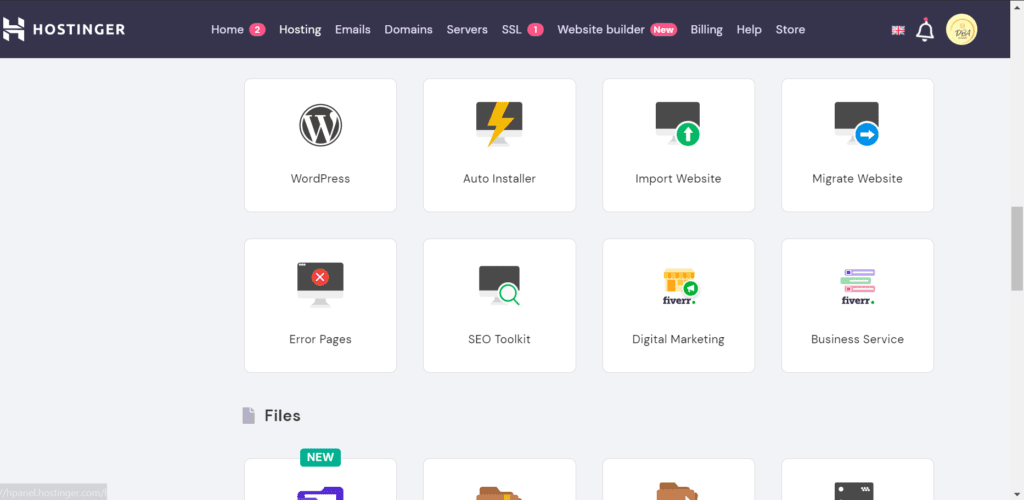 Choose the auto-installer option to install WordPress.
However, an auto-installer can be used for other applications on your website. To install WordPress just select the WordPress option.
Now choose the location to install WordPress, by default it is installed your domain name.
If you want you can mention a subdirectory for installation.
Enter the admin password, website title, database password. Click on the install button, which will install WordPress.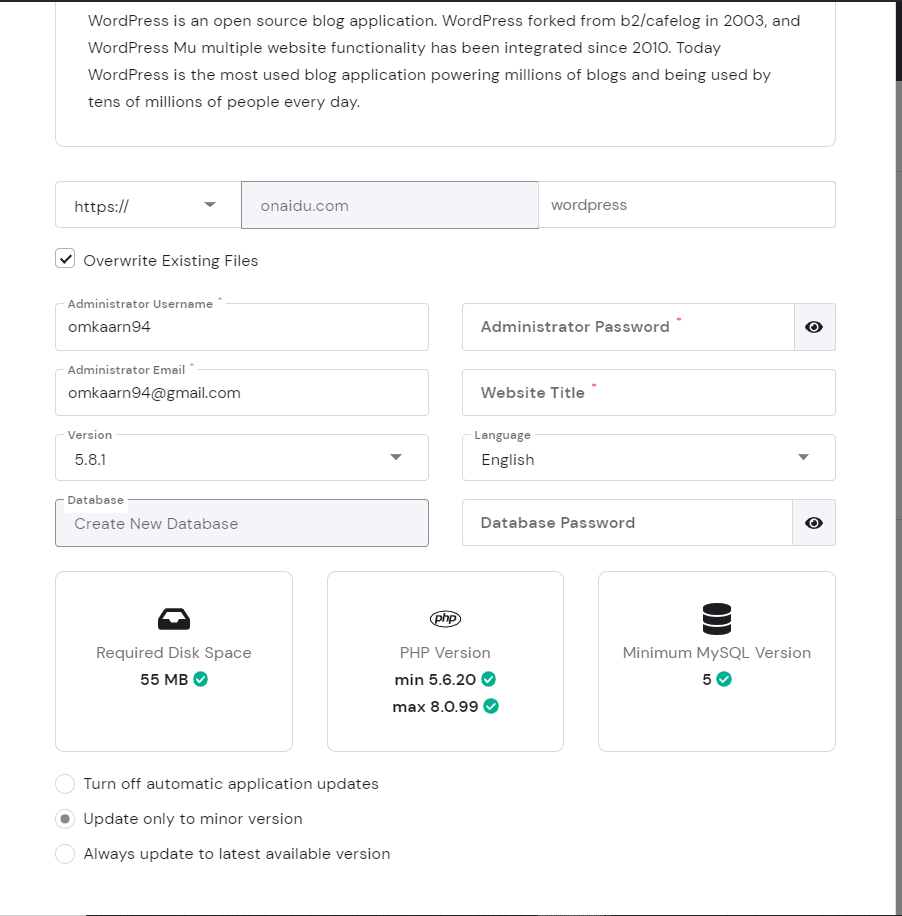 It takes some time for WordPress to install. Once the installation is completed, you will receive an email with all the details.
Congratulations!! You have successfully installed WordPress on Hostinger.
After installing WordPress, you can begin choosing themes, play around with plugins and posts.
Conclusion
So setting up WordPress on Hostinger is super easy and fun! It will literally take you a few minutes to get a website up and running.
But your work doesn't end right after installing WordPress.
Don't forget to explore your Hostinger control panel. You can create an email account for your website.
Meanwhile, you can also access your file manager and manually upload files to your website.
The Hostinger control panel has many applications for various purposes and you should get to know them to have an understanding of the control panel.
This will help you manage your website easily without running into problems.
If you have any questions about installing WordPress on Hostinger or in general, questions about Hostinger, feel free to comment below.
Thank you for the time you invested in reading this article in its entirety. It keeps me grounded and focused on delivering value to you as my reader.
If you found this article helpful and enjoyed reading it, please subscribe to my blog for more interesting in-depth content on Digital Marketing in the times to come.