I personally joined Digital Deepak Internship Program in the 15th batch and now this is my sincere effort to review the program honestly and in an unbiased fashion. We all know DDIP is one of the popular digital marketing courses available in the market.
Here is a quick review of the internship. If you are interested in knowing more about the program, please keep on reading.
| | |
| --- | --- |
| Cost of internship | Affordable. |
| Pros | Explanation, Program structure, Cashbacks. |
| Cons | Not for experienced people. |
| Personal Experience | Positive and value for money. |
| Program Structure | Relevant with the current market. |
| Eligibility Criteria | None |
| Program Duration | 12 weeks + 4 bonus weeks |
I rate this program by Digital Deepak a solid 4.5/5 (⭐⭐⭐⭐½)
I will be covering a lot of aspects of DDIP in this review. You can take a look at success videos on DD's channel.
Please understand that my only intention is to help you make an informed decision.
Before jumping on to the topic, I have something for you. A free roadmap on becoming a better content writer.
Please note that I have also put FAQs at the end. Make sure that you also read them so that you have a complete picture of the internship program. You can even find out how to apply for the internship.
How much does Digital Deepak internship cost??(Internship program fee)
Let me answer this question right off the bat and at the very start.
The cost of the internship is quite affordable and seems reasonable. I paid ₹ 15000/- for being part of the internship program. There's a high probability that the cost may vary based on your batch.
Although for every assignment completion, a certain amount of cashback is provided.
I personally feel that cash-backs are a good source of motivation for completing the assignments.
The cashback accounted for an amount of ₹ 10000/-
So the total effective fee of DDIP was ₹ (15000 – 10000)/-, ie ₹ 5000/-
Do you have a GST registration? If yes, you can even claim the 18% GST collected for this program. At the end of the Internship, you will get a certificate from Digital Deepak.
Apart from the program fee, you may have to shell some extra money for certain tasks.
I have mentioned an average amount you will have to shell out. You can check out the table below.
Digital Deepak Digital Marketing certificate
So after completing the program, I got my completion certificate. You all check out the certificate below.
The feeling is surreal, as I never saw myself as a Digital Marketer when I enrolled.
But today, I can call myself a Digital marketer. Although I am not an expert yet, but I am surely aspiring to be one of the best in coming years.
I was also awarded the Top Intern award. High performers of the batch are awarded this certificate. There are set criteria for picking the top performers.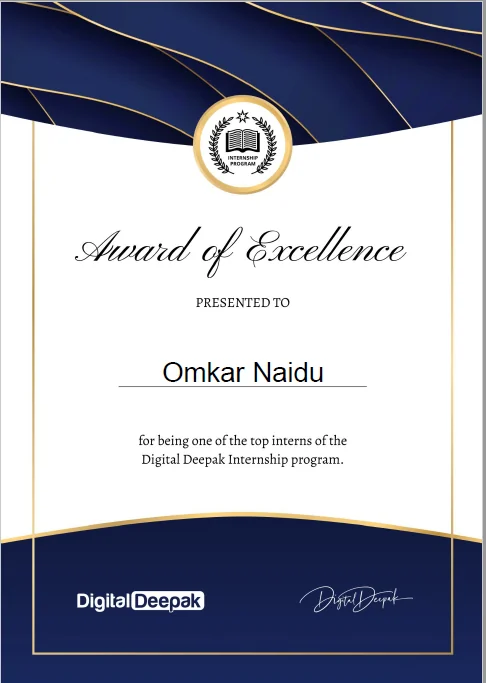 What to expect from DDIP?
The training program aka DDIP is a program that focuses on making you a T-shaped Marketer.
There are no eligibility criteria to join the program. You only need to have a good understanding of computers, the internet and of course a little bit of marketing mind.
You are exposed to a lot of techniques and systems which are developed and tested by Digital Deepak himself. He openly sheds light on his various marketing systems.
There are a lot of mastermind calls arranged for the interns. These mastermind calls are helpful in identifying areas where you are interested to work.
You are even given a chance to apply for the Digital Marketing Club. It is a closed group of high performing people, where you get a chance to interact with DD himself.
What is the structure of the internship?
The structure is pretty simple yet powerful because it motivates people to take action.
There were a total of 12 weeks, every week a new pre-recorded video is released. The teaching course and structure might change, that depends on which Internship Batch you're going to join.
Every batch is assigned with a mentor. There is a weekly Q&A session with the mentor. Any of the doubts pertaining to that week's assignment are discussed.
Q&A discussions are super useful in case you are stuck with any assignment question. Your batch mentor takes care of all the official announcements and emails. DDIP mentors take utmost care to keep all interns up to date and aware.
I will put a simple table below so that you can skim across the various topics that are covered in the internship.
Digital Deepak Internship Program Structure
Week
Topic
Money required (Average)
Difficulty
1
Mindset
0/-
2/5
2
Marketing Fundamentals
0/-
2/5
3
Niche selection
0/-
3/5
4
Setting up website
1200/-
(domain+hosting)
2/5
5
Introduction to Content
0/-
2/5
6
Social media and
Networking
0/-
3/5
7
Lead Generation,
Email Marketing
0/-
4/5
8
Facebook Ads
500/-
4/5
9
Google Ads
500/-
4/5
10
Search Engine
Optimization
0/-
3/5
11
Deep Marketing
Automation
0/-
4/5
12
Natural Sales
0/-
4/5
Please understand that the assignment difficulty is based on the perspective of a newbie.
But if you are someone who already has some knowledge about digital marketing, then it may not be that difficult for you. Most of the assignments were pretty straightforward and were all about concept implementation.
By using common sense and being aware of what other interns are doing, you can complete all assignments with ease.
Life begins at the end of your comfort zone.
What you'll learn in Digital Deepak Internship Program
So far I have discussed various aspects of the course. Now I will try a brief you about various topics that you will learn in this course.
You'll learn about funnels, the basics of economics, market research, and other general principles of business.
You'll learn about the Copywriting & Sales/Landing pages.
You'll get to know about the importance of a customer avatar and how to create a customer avatar for your business?
You'll learn how to run different kinds of ad campaigns such as traffic campaigns, brand awareness, and lead generation ads.
Deep marketing automation and natural sales are covered as well.
The topics that I have mentioned here are just the tip of the iceberg. The course is pretty intense.
Is Digital Deepak internship just another scam?
I know this internship may seem too good to be true. Also the cashback? who offers cashback right for completing the program? right?
There are some who have such questions because they have got scammed or they might have never come across a genuine internship program like DDIP.
Either way, the internship program is very real and is not a scam in any way. There are a lot of interns like me who are testimony of this fact.
Also, it is true, that interns receive cashback upon completing the assignment. There are certain conditions of completing the assignments, failing to do so may result in receiving the cashback.
Although it should not deter your will, as most of the interns who sincerely complete the assignments receive the cashback.
I will put some cashback email screenshots here.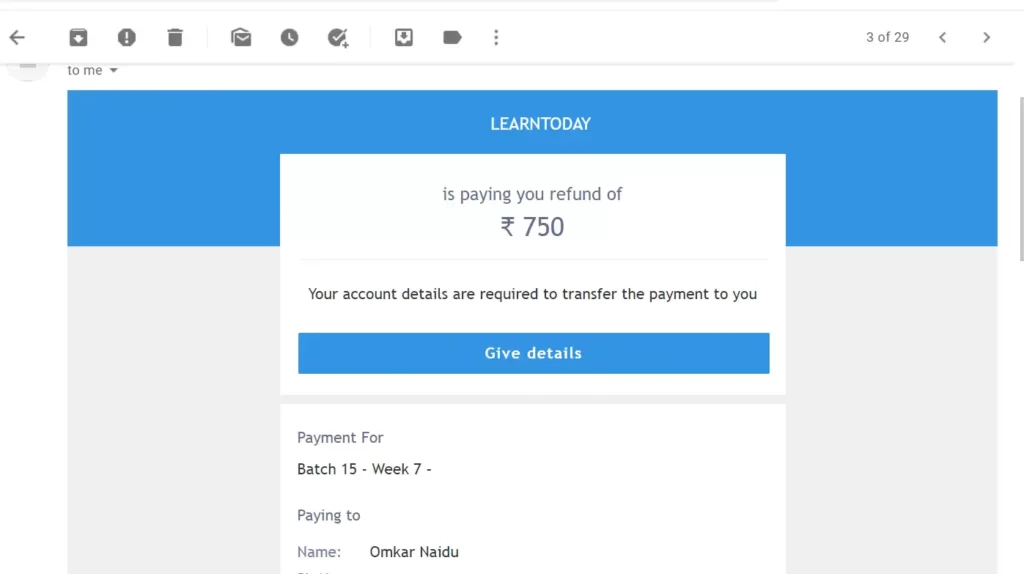 I hope, you will not have any kind of such doubts anymore.
What are the things I learned during the Digital Deepak Internship Program?
What did I learn? Well, the content you're reading is written by me!
I learnt how to break out of my comfort zone! I reduced my procrastination.
I'm building up myself as a budding SEO content writer. There are a ton of new concepts and ideas I learnt in my internship.
I expanded my network. Apart from that, I am now a T-shaped Marketer. My understanding of various marketing concepts is pretty clear now.
I write better now, in fact, I write SEO optimized content. I know how to run Google ads, Facebook ads, I even know how to generate leads.
I created my first info-product, I even created my first funnel. So there were a lot of firsts in my journey.
The DDIP boasts of a good pool of talent. You will come across a lot of people from diverse backgrounds. There are mentors with whom you can contact and get your doubts resolved.
How was my experience with the Digital Deepak internship program?
My experience was pretty positive. I come from an IT background. So I was nowhere related to Digital Marketing in any sense. Marketing was totally a new domain for me to explore.
In short, I was starting from scratch.
In this internship program, you are not only taught the fundamental concepts in Digital Marketing but you also get to apply the marketing principles in real situations.
I felt the mix of practical application and concept delivery is good. The assignments cashback actually motivates you to get out of your comfort zone.
Take Lead Generation for example.
Following a theory class, you are made to actually generate leads using various tools and cold emails.
The main focus is on learning from the mistakes you make initially so that in your second pass you hit the bullseye!
Although to get a completion certificate and cashback you need to watch the training video and complete the assignments. But if you're okay to let go of both, then again why would any sane person do so?
Needless to say, DD's command over the subject is pretty strong. He's built a structure where you're going to force yourself to do all the assignments given to you.
No more procrastination while learning from him.
Also, almost everyone who complete the assignments properly and on time got the cashback.
What do I think about the Digital-Deepak digital marketing program?
Yes, I am glad that I took the first step toward understanding Digital Marketing by joining DDIP.
Deepak's Internship pedagogy comprised a mix of recorded learning videos and live weekly Q& A sessions followed by assignment tasks that need to be completed by the interns within a timeframe.
Interns also got access to a focused and highly supportive community group that will support them in case of further doubts or queries.
The structure of assignments is the focus of this program.
A certain activity that you were taught in the class should be given to you, and you will EARN from the assignments.
I'm sure no one will teach you and give you a reward for your learning!
What is my review of the Digital Deepak internship Program?
Is it Worth Joining?
While most of the topics were conducted in a fair level of detail, some of the topics just scratched the surface.
And the entire idea of doing a DDIP is just that as the program curriculum evolves over time.
The goal of the entire internship program is to make you a T-shaped Digital Marketer.
A T-shaped expert is someone who knows a little bit of everything but at the same time, he is also an expert in his niche.
That being said, nothing is perfect so is DDIP. There are certain modules that are dragged and not everything is mentioned in the training video.
Generally speaking, what you can do is make a path and then work towards it to completion. And we get results in the end by the monetary rewards for every assignment that we submit in the training program.
If you use a little common sense and pay attention to what other interns are doing, you can co-operate seamlessly and complete the assignments on time.
Pros of DDIP
The program structure.
Assignment Cashbacks.
Free DMAT attempt.
Access to an energetic community.
Weekly Intern Mastermind webinars.
Chance to get into DMC platinum.
Cons of DDIP
Not for someone who is already experienced in Digital-Marketing.
Certain topics are just scratched on the surface.
Who is Deepak Kankaraju?
Let me give you a brief introduction to Deepak Kanakaraju. Deepak Kanakaraju (a.k.a Digital Deepak) is a Bangalore based Digital Marketing Consultant and founder of DigitalDeepak.com.
Deepak is also an author, speaker and trainer in the field of digital marketing. Deepak trains students, professionals and businessmen on marketing.
Deepak Kanakaraju also has ready-made marketing courses.
Who is digital deepak?
DD is a digital version of Deepak Kanakaraju. "DD" is how most of us address him. DD has built a lot of frameworks and systems in marketing.
He is one of the pioneers in Deep Marketing automation.
He is the author of the book Edge of Sanity on Amazon which has a 4.8 Star rating.
He is also a Ted Talk Speaker where he mentioned how Blogging had twice changed his life.
He currently operates the world's largest Facebook group of Digital Marketers. He also runs a Digital Marketing agency called Pixeltrack.
He is a much-sought Marketer and regularly speaks in top Marketing conferences.
Key Takeaways.
I am quite impressed by the internship program. For a newbie like me, the program helped me pick up core marketing concepts quickly.
I feel ready to step into the freelancing market. I have started reaching out to my potential customers.
I will surely share my experience as well as how the program has helped me generate a steady source of income.
Although that will be for some another blog.
So anyone reading this blog, if you are a student, someone from another field like me, DDIP is a good point to start and get your feet wet.
DDIP offers comprehensive and professional training in digital marketing.
For those who want to get started in Digital Marketing and doesn't want to compromise with quality, then this internship program is definitely for you.
Thank you for the time you invested in reading this article in its entirety. It keeps me grounded and focused on delivering value to you as my reader.
If you found this blog helpful and enjoyed reading it, please subscribe to my blog for more interesting in-depth content on Digital Marketing in the times to come.
Frequently Asked Questions (FAQs)
Is the Digital Deepak internship free?
No, the internship is not free. You have to pay a fee, which depends on the batch you are joining. The seats are limited. I have mentioned the exact amount I had to pay for the internship.
Is the Digital Deepak internship good?
This is a subjective question. Although I will try to answer it broadly. If you're a newbie, student, or from some other field this internship is really good as it gets your feet wet.
You get acquainted with a lot of Digital Marketing tools and concepts.
Is the Digital Deepak course worth it?
I have already described various aspects of the program. If you compare the effective cost of the program and knowledge, it seems the course is worth your time and effort.
I'm saying this because you get a chance to network with like-minded people.
How do I apply for the Digital Deepak Internship Program?
I know a lot of you may be wanting to join the internship program. You can click on the link mentioned, which will take you to the application form for the internship program by Digital Deepak.
Who should join this internship?
DDIP has an offering for individuals across all possible walks of life. The Digital Deepak Internship Program presents a good opportunity to kick start your career in the world of Digital Marketing.
This program is right for you if
1. You are a student and want to learn Digital Marketing
2. A professional who wants to improve his Marketing Skills
3. A Freelancer who wants to increase his skills and Revenue
4. To improve Digital Marketing Skills to get a Job